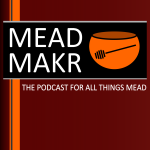 We made it! Episode 1 of the MeadMakr Podcast is now live! Thanks for checking it out.
You can download the podcast to your computer, or listen to it right here on the web. We will submit the podcast to iTunes soon, but we need a few more episodes completed before we can submit.
Right click here to download the mp3 directly.
In this episode, we provide a very quick definition of mead, introduce ourselves, talk a little bit about the mead industry and its growth in recent years, and outline the future podcast format.
Also, during each podcast Allen and Tysen will drink mead and provide tasting notes and commentary on their respective beverages. In this episode, we enjoy two meads made by Allen.
Tysen tries a replica recipe of Joe's Ancient Orange, and Allen drinks a traditional session mead made with wild yeast captured in Southern Maryland. Recipes for each can be found here: Joe's Ancient Orange Recipe and Wild Yeast Session Mead.
Other items discussed in Episode 1 are provided below.
Items Mentioned in This Episode:
Crowdfunding Your Meadery – MeadMakr gets published in the 2014 Summer Edition of the AMMA Journal 
The American Mead Makers' Association (AMMA) Homepage
2014 Industry Report of the American Mead Maker's Association
Meadist
Gotmead.com
HomeBrewTalk.com
TheMeadery.net
Mead in the News
Mead is More Popular than Craft Beer – Thrillist
Mead, the Honey Based Brew Producing a Real Buzz – CBS
Mead Madness: the Nectar Returns – Great Wine News
How to Make Mead and Drink Like a Viking – Popular Mechanics
(And so much more we can't recount! So we'll send you to TheMeadery.net for the latest news.)
Incomplete List of Brewing Podcast Episodes Discussing Mead
Mead Making with Michael Fairbrother – BeerSmith Episode #88 (also appears in Episode #43 and Episode #65)
Making Mead with Curt Stock – BeerSmith Episode #20
Mead with Ken Shramm – The Jamil Show
Ken Shramm on Mead – Basic Brewing Radio
Melovino Meadery and the BNAs – The Brewing Network